Nelumbo nucifera, also known as Indian lotus, sacred lotus, bean of India, or simply lotus, is one of two species of aquatic plant in the family Nelumbonaceae. The Linnaean binomial Nelumbo nucifera (Gaertn.) is the currently recognized name for this species, which has been classified under the former names, Nelumbium speciosum (Willd.) and Nymphaea nelumbo, among others. (These names are obsolete synonyms and should be avoided in current works.) This plant is an aquatic perennial. Under favorable circumstances its seeds may remain viable for many years, with the oldest recorded lotus germination being from that of seeds 1,300 years old recovered from a dry lakebed in northeastern China.
Product Name: nelumbo nucifera extract
Latin Name: Nelumbo nucifera Gaertn.
Part of Used : Leaf
Active Ingredients: Nuciferine
Specification Available: HPLC 2%,10%, 98% Nuciferine
Appearance: Brown Fine Powder or white fine powder
Odor: Characteristic
Molecular Formula: C19H21NO2
Molecular Weight: 295.376
CAS No. 475-83-2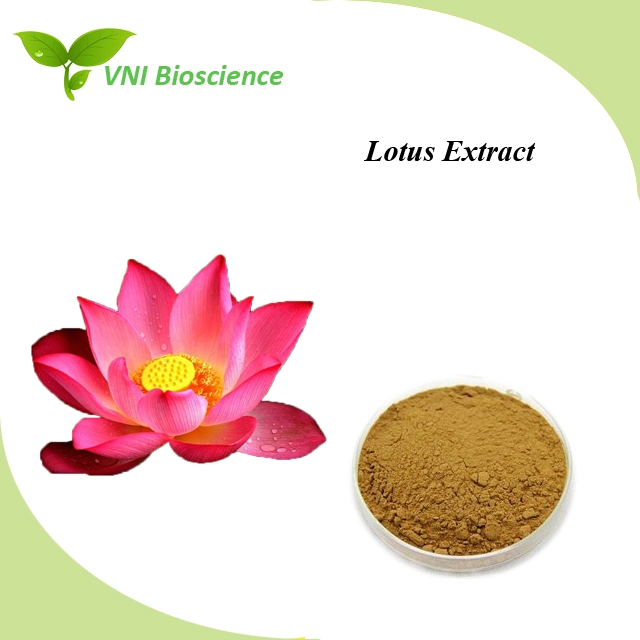 1. Weight control Adjust blood lipids, codeine and expectorant Anticoagulant and antidote in medicine,It is used
for treatment of summer heat syndrome and dampness accumulation.
2.It has become popular for lowering blood lipids and treating fatty liver; It is commonly combined with
cartages, which promotes blood circulation and lowers blood fats, for that purpose.
3. Control adjust blood lipids, codeine and expectorant, Anticoagulant.